This is a "How to" on replacing the worn shift linkage bushing for the 69-72 tail shift 914's.
I picked up the 914 Shift Bushing Super Kits form Pelican Parts
http://www.pelicanparts.com/catalog/shopca...t_pg1.htm#item0
Parts needed:
1 New Ball Cup Bushing
3 New Firewall & Shift Rod Bushings
2 New Shift Rod Bushings
Tools I used:
10mm socket
12mm socket
13mm socket
2-13mm open end wrench
4mm, 5mm Allen keys
1 flathead screwdriver
Grease for bushings
Paper towels
Magnetic pickup tool (not needed but helpful)
Needle nose pliers
Jack & jack stands or ramps if you can in reverse
700 Tech Book & Haynes manual
When my 71' 914 arrived it started but would not go into 1st or Reverse. I was told the tranny needed some help from the previous owner. First thing I did before buying the 914 was order & read thru the 700 Tech Tips by George A. Hussey. Great read and a must for 914 owners, pg. 48 #344-352 was very helpful in solving the tranny issues I had.
1st- The tranny would not go into reverse, but it felt like it was going into 1st or maybe 3rd I couldn't tell do to how loose the stick felt. I knew that the shifting bushing needed to be changed (the car is 39 years old).
Now for the fun:
Jack up & support the car with two jack stands or if you can use two ramps so you can get under to remove the shifting rod and to replace the bushings.
This is what I found:
Tail shift mechanism has lost its cover & some rubber things are around it.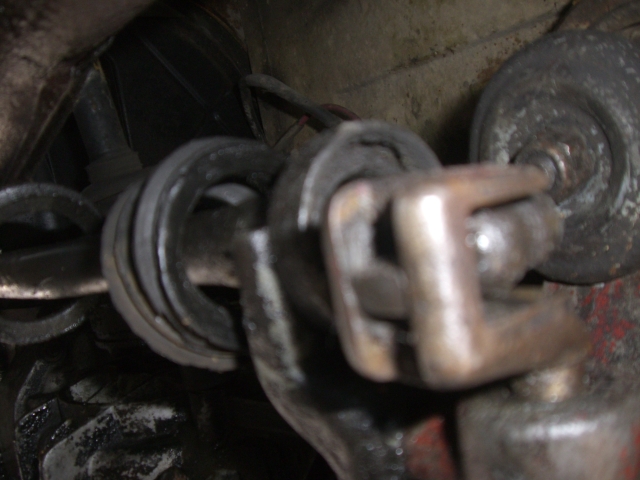 This is the cover that houses the two ball shifting bushings. Look at what's left of the boot.