See Post #457 for update
_________
JANUARY ISSUE IS OUT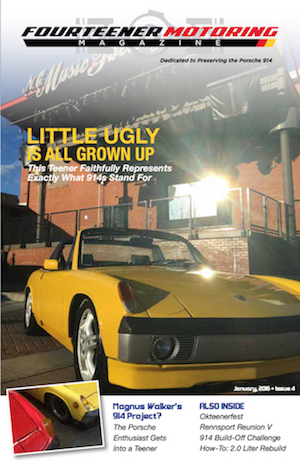 _______
I hope I don't regret asking.

I am looking for feedback on the magazine. We now have an automated distribution system set up, so that should be fixed and you should see a large improvement with the upcoming issue.
I am particularly interested in feedback on content. Here are my questions:
Content - The most important thing is - what do you think of the stuff we are covering? Is it what you want to read? What would you like to see added?
Then beyond content here are some things that I am pondering:
A. Balance between features, tech, and news/events. Do you like the balance?
B. Balance between photos and text - What do you think?
C. Length - We are at 44 pages now, but, we have very few ads. Most magazines run at least 50% ads. So from a content standpoint, I don't think we are doing too badly for a brand new magazine. I'd like to add 4 pages soon, but, I may wait until the January issue to do that, unless you give me feedback that there isn't enough in each issue.
D. Size - this is an important one. I went with the small size for two reasons: 1: I like it and think it is easy to carry around with you. And then 2: Cost. It cut our print costs almost in half. But, the size makes for doing full stories difficult. As a solution, I have considered doing a more detailed story on the website and readers could go over to the website for more photos, build sheets, etc. But, I wonder how many people would actually go from the magazine to the website to read more.
E. Overall feel - it is important to me that the overall feel be that of a professional magazine. Are we accomplishing that with the size and length? Is there anything we can do to improve in this area?
F. My original intent was a more "tech-related" magazine than say a Pano or Excellence. Not just features, but, useful info. Have we accomplished that? Do you value that angle?
G. What other resources would you like to see included in the magazine?
Any other comments? The magazine is about you. So your feedback is really important to me.
_______
I wanted to make sure that you everyone saw that the downloadable PDF of the July issue is available on the website. Just go to -
FourteenerMotoring.com
- and click on - Read Issue 2 in the menu.
The print version of the October issue goes to press September 7th, and will be mailed October 1st. We have moved all of our deadlines up to make sure these go out on time. If you want a subscription to the print version of the magazine, you can
subscribe here.
________
UPDATE:
Last call to subscribe and get the second issue. After August 15th, new subscriptions will start with Issue 3 (October issue). We also have a limited number of copies of the first issue. So, if you want your subscription to start with Issue 1, PM me.
________
UPDATE:
Last call to subscribe and get the first issue. We will have some of the first issue available for sale as single-copy back issues. But, we are closing out the first subscriptions. So, subscriptions after this week (May 10th) will start with issue number 2.
________
We are excited to announce that the the first issue is done and will be mailed out the first week of April. Thank you for your support. The magazine includes:
Feature stories about 914s and their owners
Event coverage
News
Product Reviews
Tech articles
Project cars
and more
There are two ways to subscribe. We offer the quarterly print version of the magazine, mailed to you for $19.99 per year. Or you can receive the electronic version for FREE. We want everybody to get it. Warning - the print version is awesome. When you see the print version we know you will want it.
If you would like the to receive the magazine you can subscribe here:
PRINT MAGAZINE -
Subscribe to Print version
ELECTRONIC VERSION -
Available at
FourteenerMotoring.com
If you have a 914 story that you think should be told, or are interested in writing an article (or two, etc.), covering events, or helping in any way, please PM me or email me at - stevegm@mac.com
In particular, we are looking for the following stories for upcoming issues. If you are interested in helping with any of these, or would like to be featured, please let us know.
Feature car - Subaru conversion
Feature car - Original six
Tech article - Six conversion
Tech article - Megasquirt conversion
Racing stories
Product reviews
------- OLDER POSTS -------
UPDATE:
The Fourteener Motoring Magazine website is live. It is a "soft launch," and is by no means complete. The website will carry articles between issues, long running series' (like project cars), and the articles from issues after they are published. The first issue of the print magazine ran behind because of design conflicts (we are using a unique format that took some working out). We have worked them out now. In addition, given the importance of the Amelia Island honoring of the 914 I thought it would be good to include it in the first issue. The first print issue will be out the first week of April, and will include Amelia Island, Eric's Trip, and some other great stories. We will be sending emails out to subscribers in the next couple of weeks. We have decided to provide the PDF for free, and the print version for a subscription of $19.99 per year.
___
In assembling the 914 calendar we just finished, I had the opportunity to go through a lot of pictures of great 914s. They were very inspiring. In addition, a number of people sent me the "story" of their car. What struck me the most was that each car is a work of art (regardless of its current condition), with a story behind it. A story that should be told.
I decided to take on the project of creating a print publication dedicated to the 914, called Fourteener Motoring (since the car was called the "Fourteener" internally at Porsche). A decade or so ago I founded a small, industry magazine for the field I was involved in. It is something that I think will fit in the 914 community well.
The magazine will be published quarterly, at least initially. I am using a small format that will fit in the glovebox. It will include feature stories, tech articles, product reviews, racing coverage, as well as event news and stories. My goal is to put something out closer to the magazines that were actually fun and useful to read when I was getting into cars in the 1970s.
A traditional magazine revenue model would likely not work in this small of a niche. So, I am going to do it a little differently.
Subscriptions are FREE,
at least for as long as I can make that work. I will evaluate it more as time goes on. But, I would like to try a free model.