Hello everyone, it was recommended I come here by a member on another forum I'm a part of. I'm new to the 914 world, well... the Porsche world really. This will be my first life-size Porsche.
A tiny bit about me: I'm a mechanical designer at a major Medical Device company, I've owned roughly 30 cars in the 15 years I've been driving, the majority of which were VW, Audi, BMW, and Volvo. I am a major DIYer, I do paint, welding, bodywork, upholstery, glass, mechanicals etc. Only had a few carbeurated cars though, and one motorcycle. I'm also an artist and create high quality vector based car illustrations as a hobby and to help pay for other hobbies. You can view my stuff on my website www.auto-illustrated.com but I wont clog up the thread with that. I wrote an article a few years back for a contest sponsored by Porsche and won a 2-day driving school trip to the Porsche Sport Driving School in Birmingham Alabama, this further cemented my goals of owning a Porsche.
Most notable cars/projects: I've had a few MK1 VW Rabbit's, two were major builds including engine swaps. Just recently sold a 2001 Audi S8 that was wonderful.
Current stable: 1998 Jeep Cherokee DD/tow/winter truck, 1974 BMW R90/6 cafe racer, my wife drives a 2014 VW Jetta (manual too!) and tonight I will be picking up my newest project and the reason I joined here, a '71 914.
On to the meat and potatoes.
I had been missing having a project car, something old that I could work on and drive in the summer. That lead me to selling the S8 and buying a DD plus a project. I was interested in 914's, 924's, and 944's and even had a few 944's lined up that fell through only days before I found this 914.
On the morning of the 25th I saw a message from a friend in my inbox, with a link to a 914 that had been posted locally around midnight. Price was very low, and details put the car right in my comfort zone. It's a project for sure, but not
too
much of a project a'la a past Locost build. I emailed them immediately, toothbrush dangling from my mouth. Explained I have cash ready, would like to see it at their earliest convenience, etc. I imagine at that moment several others were doing the same, they got a lot of interest.
QUOTE
This was a California car for most of its life, and was my daily-driver during the late '80s. When I moved to MN I garaged it every winter, it is rare (for a 914 in MN) in that the frame is not rusted out. The original Targa top still mounts without trouble/binding! It has surface rust in a couple spots. There's a little bubble where the driver-side fender meets the apron in front of the windshield, and there's some where the passenger-side jack mount is. Oh, yeah, I still have and can use the weird/creepy jack that came with the car.

The way I bought it the car's fuel injection had been removed in favor of dual-webers and a more aggressive distributor. It also has a stroke/bore kit on it that took the standard 1.7L up to a 2.0L. This was a fairly common mod to these back then. I still have both the fuel injection+input manifolds and the original distributor.

My brother got it in a fender-bender that last year that I drove it, and the driver-side fender needs replacing or some serious TLC. The interior is pretty old/dried/cracked. The exterior needs a new coat of paint.

I parked it in the winter of 95/96 planning to do my normal thing of starting it monthly all winter long. (I never "put it away" entirely, opting to go this route instead.) However, life intervened and pretty soon I'd let it sit several years without starting or anything...so at this point it's safe to assume that it'll need some TLC to get it running again.

This car really deserves to have someone bring it back to life, one of the most fun cars I've ever driven! I've had to face facts that it's just not going to be me.

Don't pass up this great deal!
The sellers wife replied later during the day, said that I could come see it around 6:15 if I wanted, but warned that there was a lot of interest. I expressed my interest as best as I could, I was super excited about it and was in love with the prospect. I went against all of my conventional car buying wisdom and offered to send a deposit immediately to lock it down for me and save them from having to schedule a bunch of showings. My thought was that
if
it was structurally too far gone, that I could probably weld it up enough to drive, put GT flares on it, and make it a rat. Or part it out, or sell it again. It was a risk I was willing to take at that price.
They agreed to the deposit, and were very happy that I was so enthusiastic about it. That evening my wife and I drove down, I got to meet the sellers and look over the car. If you've ever played the Forza Horizon video games where they have these "barn find" cars, there's a cut scene where some character comes and opens the garage or whatever it is to see this dirty faded car with a few dents. It was exactly like that, to a tee. I got to check the car over, could have dug deeper but honestly didn't feel the need. We went inside and exchanged money for the title, and arranged for me to return tonight (Friday) to pick it up and tow it home.
In all there were about 2 dozen inquiries on the car, and after they accepted my deposit there were 4-5 offers with several hundred above asking price. They were great people though, and were true to their word. They knew the car was worth much more than their asking price, but were just happy that it was going to someone who was ecstatic about it.
For now I only have the pictures from the ad, but once I get her home I'll snap some better ones.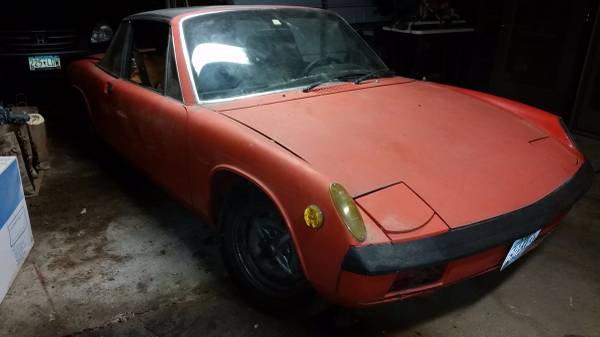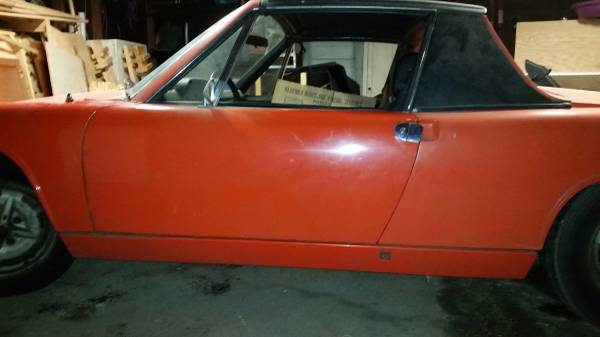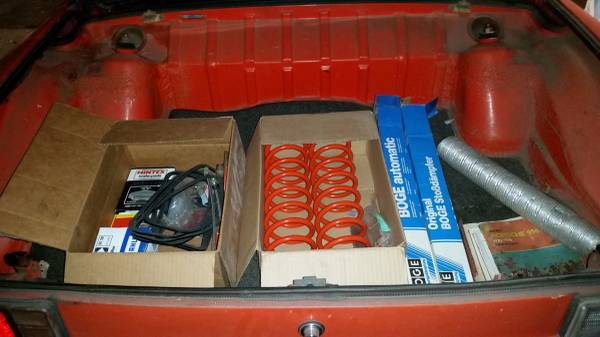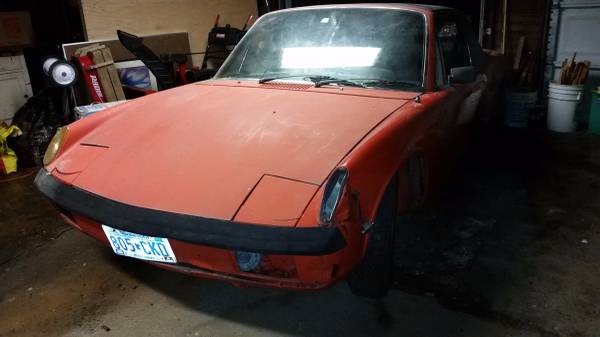 The ad claimed it was a '70 but upon inspection of the title it looks to be a '71. Not a big deal, there weren't any major changes between those years as far as I can tell.
Plans depend a lot on how much rust is hiding in there. If it's stuff that I'm comfortable welding up or replacing sheetmetal to stock, then I'll lean more towards restoration. I'll do wheels for sure, but otherwise focus on replacing old seals and rubber bits, see if I can get someone to bring the luster out in the paint again but if that fails I would paint it and keep the original color. It will be a driver, but aiming for a clean, OEM driver. Very unlikely it'll get GT flares at this point, don't want to bastardize it if it's a good example.
The 914 was $1,100
Yes, eleven hundred.
Ok, that's it for now. Looking forward to spending a month looking through old threads trying to learn as much as I can.