About a year ago, I spoke with Palo Alto Speedometer about their 914/6 triple cluster gauge. I assume it is still avail. Is there any other option to get a combo gauge for a 914/6 application with Fuel level, oil pressure and oil temp readings? I'm eliminating the center console in my car and would like one clean simple gauge if possible. I also saw the option of getting a standard 911 oil temp/pressure gauge and modifying a 930 tach to change the boost gauge portion of it to be the fuel gauge.
This one is my first choice... Just checking to see if there were options or anyone selling one similar.
- Rich
This would be my first option...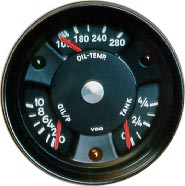 These would be my 2nd option... Converting the Bar boost gauge into a fuel gauge.